Frequently Asked Questions
Here are answers to some common questions DLA Editors & Proofers gets about its proofreading, editing and consultation services.
If you don't find the answer you're looking for, feel free to contact us during our normal business hours.
About the Submission/Editing Process
About Payments, Changes and Cancellations
For First-Time Clients
About Our Services
For Those Wanting to Work for DLA
Who Is Our DLA Team?
We are a team of dedicated, in-house, expert editors. We do not use freelancers.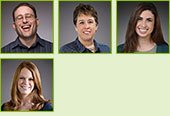 Meet Your DLA Team