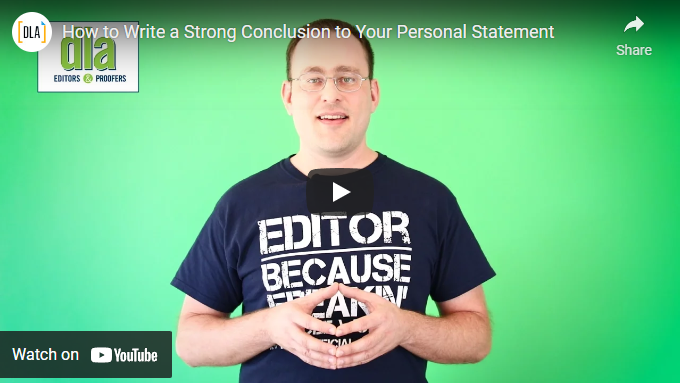 End With a Bang!
You can hook your reader with the introduction to your personal statement and wow them with magical words in your personal statement, but if you don't write a strong conclusion to your personal statement, you'll leave program directors and admissions committees with a whimper, rather than a bang.
And more often than not, it is the feeling they get from your personal statement, rather than the content itself, that determines how they view you as a candidate.
3 Key Goals and a Formula for Success
First, I will discuss three key goals you will want to accomplish in your conclusion, then I will provide a formula to follow for writing a successful conclusion.
The advice I share with you here stems from my 10+ years of guiding candidates in writing outstanding personal statements, who with our personal statement services have achieved a 97.4% match rate for medical residency, and a 100% acceptance rate for all other programs and schools.
Goal #1: Avoid Stating That It Is Your Conclusion
The first goal when writing the conclusion to your personal statement is a simple one. It is to avoid starting the conclusion with the words "In conclusion," "To conclude," "In summary," "To summarize" or something similar.
If you start the conclusion by stating it is the conclusion, you can inadvertently produce an undesired effect in the eyes of the program director or admissions committee member. To some, it will indicate a lack of maturity in the writing, while to others a lack of self-confidence.
Still to others, it will indicate the candidate lacks a clear vision of what to accomplish in the conclusion.
Instead, embrace your conclusion with the same clearness of focus and direction you have used from the start of your personal statement, and trust that when you do so, the program director or admissions committee member will know when they reach your conclusion.
Personal statements that do this will be sure to get their attention.
Goal #2: Avoid Introducing an Entirely New Concept
The purpose of your conclusion is to advance the understanding so far achieved in your personal statement. Introducing a new idea should be avoided, unless that new idea is a clear extension of what you have already established in your personal statement.