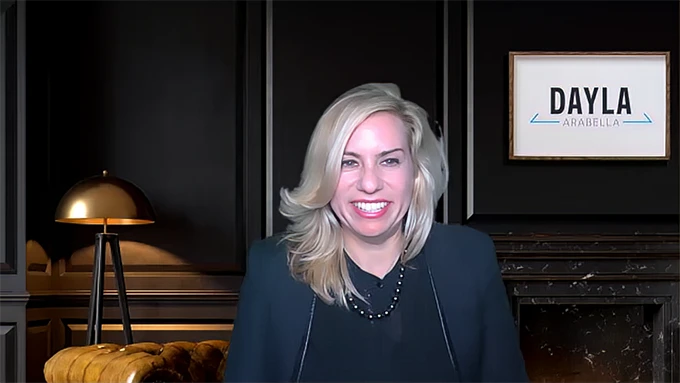 Who doesn't love a grandmother's—especially an Italian grandmother's—cooking? Dayla Arabella Santurri grew up on her grandmother's meals, often prepared in a little kitchen built out of a closet at the garage her grandfather started in 1930 in Cranston, Rhode Island, after immigrating from Italy. Dayla would walk past the customers, greet her grandfather, father and uncles, and head for the delicious cooking every day after school. From there she also learned her first lessons about running your own business: put your all into it, ask for help when you need it, and help others in return.
Off to College
Dayla's large family was close knit, and moving to Boston for college kept her near them. It also enabled her to continue joining them at all New England Patriots' home games, a family tradition since 1970.
The most important reason for choosing Northeastern University was its extensive cooperative education program ("co-ops") that combined classroom learning with practical work experience. As a pre-law major, one of her co-ops was in Washington, DC, in the office of former Representative Joseph P. Kennedy, III, an experience that actually helped her learn that the Hill, DC and law itself wasn't for her.
She also learned that she had a gift for communication and solving problems. She loved working on campus projects in which she could identify deficiencies and assemble the infrastructure to overcome them. She saw what the need was, conceived a plan for solving it, and explained it to the others on her team. She then jumped right in and helped out like she had learned to do at her grandfather's garage, and through it discovered firsthand what it was like to run an organization—what worked well and not so well—and to improve from any mistakes.
Starting Her Career
Though she didn't know it at the time, Dayla's career started at the age of 19, when she took a job working at a Hilton hotel. By the time she was a senior in college, she had been promoted to special events manager, but she wanted to take some time off, both from school and her job, to travel to Europe. When she returned, Hilton offered her the position of manager of a high-end conference center whose clients included Fortune 500 companies. She eagerly accepted, making her one of Hilton's youngest East Coast food and beverage managers. She arranged special events, and excelled so well over the next 10 years that the hotel's management asked if she would take over running their jazz club. They wanted someone young and experienced with the company, and they trusted her.
Dayla didn't know anything about jazz—or even like it at the time—but she jumped in with the same eagerness with which she had started previous projects, and soon made friends with the performers and began to like jazz. Jazz opened her mind to the arts, and through her work she developed a deep understanding of the relationship between the arts and business. She found people on both sides of the arts-business divide who struggled to see the value of the other side but knew they needed to work together, so Dayla began mediating between them. She knew everyone would need to play a role in making events successful, and so asked clients, "How can we make this work?" With that attitude, she produced over 200 hundred shows a year for five years.
Setting out on Her Own
People attending events at the jazz club found her approachable. When they needed advice for their own events, they would ask Dayla, and soon she started her own company, Dayla Arabella, Inc. Her philosophy is that each event needs to represent a company—and its story—honestly so donors and patrons can have faith in how their money is used.
When she discovered organizations lacking internal communications teams to present the stories and events to the public accurately, she added PR work to her business. Now Dayla is a certified meeting professional and offers event planning, media relations, talent buying and hosting trips.
Overcoming Obstacles
Not every event runs smoothly, and Dayla has had "many harrowing moments." Once, a famous tenor saxophonist headlining an event had issues with the sound, which, in spite of their best efforts, no one else could hear. The saxophonist stormed off the stage, told off the sound personnel, and threw his sax against a wall, ending the show before dinner.
The client was irate. He blamed the artist, the sound techs and Dayla. Dayla knew she needed to solve the problem quickly. Thinking the saxophone was now too damaged to be used, she started calling every saxophonist she knew to find a replacement instrument.
While she was making the calls, the artist recovered himself and went to pick up his saxophone. When he did, a harmonica fell out of the bell—one he had put there and forgotten—and in that moment saw the reason for the sound issues. He was embarrassed and felt deflated. Dayla asked him if he could simply return to the stage and play. He did, and played much longer than expected, making everyone happy.
Supporting Women in the Media
Boston is the eighth-largest U.S. media market, but it can also be a closed community with the same people working on many projects. Dayla saw changes in media that were affecting women especially. Her problem-solving mode kicked in, and she joined with Candy O'Terry, a long-time media partner, to form Boston Women in Media & Entertainment in 2012. As word spread, BWME's numbers and presence grew, and now more than 200 professionals from all facets of the media industry have an extensive network of clients and referrals to help each woman reach her goals.
Finding DLA Editors & Proofers
Three years ago, Dayla realized how time-consuming and challenging editing her own work could be. She needed a reliable editing company, one that would both provide high-quality editing services and also deliver its work on time, every time. She found DLA Editors & Proofers. Since using DLA's editing services for press releases, newsletters and everything in between, Dayla has peace of mind, allowing her to focus her efforts on other areas of her business, and through the edits and comments she receives from DLA Editors & Proofers, has also found her writing steadily improving.
Dayla's Personal Side
Dayla and her husband met at the Kentucky Derby in 2007. Two weeks later, as she left for an extended trip through Europe, he called and asked, "Can I call you when you get back?" He was the first person to call her when she returned, and they found a way to make their relationship work despite the distance between Boston and Washington, DC.
Now that he's working as a consultant, they split their time between Boston and his hometown in New Jersey. They have plenty of access to the beach, golf, kayaking, Red Sox games (his favorite) and, of course, Patriots games.