Expert RFQ, RFI and RFP Editing Services
Your RFQ, RFI or RFP reflects the purpose you have for your business and the vision you have for achieving it. You need a team of professionals with your same commitment to quality to ensure every word in your RFQ, RFI or RFP is on point and focused in the right direction.
The DLA Difference
The trust people place in your business comes from the quality of your RFQ, RFI or RFP. We know what it takes to get every detail right—and what it takes for your RFQ, RFI or RFP to establish credibility and gain the respect it deserves.
Brand-Focused Professional Editors
Our editors are the best in the business. They are professional editors who:
| | |
| --- | --- |
| | Possess 50+ years' combined business editing experience |
| | Bear editing expertise across a broad range of markets |
| | Edit 5+ million words annually |
Style Guide Experts
Have an In-House Style Guide?
No problem! For a small reading fee, you can submit it with your project as a file to be read, and we will follow it. Or those who qualify can register for a corporate account, and we will follow it for free!
Corporate Accounts
Need a professional editing company to provide your organization with high-quality editing services on time, every time? Consider a corporate account. Those spending $500 or more per month get volume discounts, monthly billing and other great benefits!
Our Services
RFQ/RFI/RFP Editing & Feedback
This exceptionally valuable service sets us apart. It includes all RFQ/RFI/RFP Editing and RFQ/RFI/RFP Proofreading services and adds detailed, objective feedback on issues that impact the success of your RFQ, RFI and RFP.
We provide in-line comments and an overall document analysis that address:
Underdevelopment

Reasons for Our Suggestions

Points of Confusion

Missing Information

Overall Strengths

Overall Weaknesses

Any Other Insight to Enhance Your RFQ, RFI or RFP
RFQ/RFI/RFP Editing
Also called "copy editing," this service includes all RFQ/RFI/RFP Proofreading. With it, we will also make or indicate the specific corrections to be made relating to:
Consistency and Clarity of Style, Tone, Ideas and Concepts

Advanced Word Choice (Connotation and Rhythm)

Unnecessary Repetition/Redundancy

Sentence Structure (Including Fragments and Run-ons)

Adherence to AP, APA, Chicago or MLA Styles, or
Your Organization's In-House Style Guide*

Brand-Focused Editing

Industry-Specific Spelling

Conciseness

Flow and Transitions

Passive Voice

Effective Modifier Use

Paragraph Structure

Overall Structure

* When a style guide is specified, it also includes identifying corrections to be made to:

Formatting of Headings and Page Headers

Formatting of Tables, Charts and Figures

Page Layout (e.g., Margins and Orientation)
RFQ/RFI/RFP Proofreading
With this service, we identify and correct mistakes in basic English usage. It covers:
Punctuation

Singular vs Plural

Grammar

Subject-Verb Agreement

Typographical Errors

Pronoun-Antecedent Agreement

Verb Tense

Basic Word Choice (Denotation)

Spelling Errors (Non-Industry Specific)

Get to Know Us!
We are a team of dedicated, in-house editors with 50+ years' combined experience.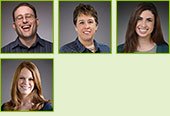 Meet Your DLA Team

Join These Great Organizations
Want a FREE Sample?
If you have more than 3,000 words, we'll edit the first 300 words for FREE!
Get Your FREE Sample