Frequently Asked Questions
Here are answers to some common questions DLA Editors & Proofers gets about its development, revision & critique, editing, proofreading and evaluation services.
If you don't find the answer you're looking for, feel free to contact us during our normal business hours.
About the Submission/Editing Process
About Payments, Changes and Cancellations
For First-Time Clients
About Our Services
For Those Wanting to Work for DLA
Get to Know Us!
We are a team of dedicated, in-house editors with 50+ years' combined experience.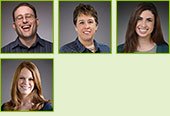 Meet Your DLA Team